Contact Us Samples
The layout of the contact us page is more-or-less standard. However, at no extra charge, there are a few settings that can be customised to your specific requirement.
A contact us page costs just £30. Unlikely as it may be, if you'd like more than one, and again because the ground work is done, it's just £10 for each additional form.
Drop-down 'Recipient' field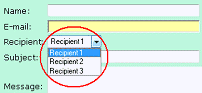 Will you be creating (or do you already have) multiple email address? Would like your visitors to specify who to send their message to?
With a specific 'recipient' field, this contact form allows exactly that by using a drop-down menu.
Alternatively, we can omit the 'Recipient' field and all messages will go to the same email address. This all depends how your business or organisation is set up and how you'd like your website to handle incoming messages.
---
Drop-down 'Subject' field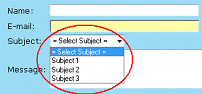 Do you have various departments or various services to offer?
Again, using a drop-down menu, your visitors can choose the subject of their message from your pre-determined list.
Alternatively, your visitors can specify their own subject for their message in a standard text-box. Unfortunately, this contact form does not allow both a drop-down AND customised subject topics, it has to be either / or.
---
Image Verification


Common on many other sites, a visual verification image displays a 6-figure code that you need to enter in the box.
An incorrect code will not allow the message to be sent. However, different to other websites, this code is not distorted and so is easy to read by the human eye. This feature can be turned off, but it is not recommended.
---
Preview before send


The 'Preview Before Send' feature means, not only can your visitors give a final check to the message they're sending you, but provides yet another level of protection from spam robots. Again this feature can be turned off, but again its not recommended.
---
Time delay
A time delay feature prevents message flooding by stopping each unique visitor from sending another message within a set amount of time from the last one. Measured in seconds, this can be customised to whatever you like, but is initially set at 90 seconds.
---
Valid email format
Aimed at beating the spam robots by providing yet ANOTHER level of protection to ensure that the messages you receive are genuine, the contact form also comes with and email format checker. Essentially, it makes sure that all submission include an email address in the correct format, ie a@b.c
---
More functional than security, the contact form also provides the following...
Send Copy - A simple tick box allows your visitors receive their own copy of the message they're sending to you.
'Sent Message' confirmation page - When your visitors successfully send you a message from the Contact Us form, they can be directed either to any page on your site, or for improved customer service, to a special message confirmation page.