Clickable Sample Galleries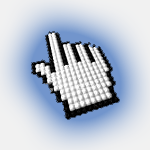 Clickable galleries are based on the standard gallery page. How many times have you been to a website that offers thumbnail images of their products, but you'd really like to see a larger version?
The main difference betweeen a standard and clickable gallery lies in the background within the programming, as each thumbnail is clickable and will pop-up in a new window to show a full-size image. To help your visitors realise this, you could have a simple 'View larger image' link under each thumbnail.
Its worth noting that due to those annoying pop-up adverts you sometimes get, its quite possible that some visitors may have pop-ups disabled. Visitors can get around that by simple holding down the CTRL button when clicking the thumbnail. We'd just need to include a message on your page to help your visitors manually by-pass their pop-up block.
Again, similar to the standard gallery page, the arrangement of the thumbnails can be customised to however you'd like, but to qualify for the 'subsequent page' rate, subsequent pages must use the same arrangement. Also, each gallery page is limited to a maximum of 18 thumbnails per page.
Of course we'll be happy to create you a second clickable gallery page with a different arrangement of the thumbnails, but that may be considered another 'first' page, depending on it's layout.